Ashley Wells, CC Liu, Seth Auberon, Wisdom Quarterly; Amy Goodman,
Denis Moynihan,
Juan Gonzalez, Aaron Mate (democracynow.org, 9-17-14); Naomi Klein; thinkprogress.org
The Earth (Bhumi) as one part of "Human Plane" (manusya loka in Buddhist cosmology)
Money vs. the climate, what will corporations decide? (thinkprogress.org/shutterstock)
The Climate Marches On
"Unjust laws exist." So wrote Henry David Thoreau in his 1849 essay, "On the Duty of Civil Disobedience." He asked, "Shall we be content to obey them, or shall we endeavor to amend them, and obey them until we have succeeded, or shall we transgress them at once?" His answer: "I say, break the law."
More
This Changes Everything
Tune in this Sunday, Sept. 21:
Democracy Now!
will broadcast live from the
People's Climate March in New York City
, part of a global mobilization in advance of a U.N. special session on climate change (at
DemocracyNow.org
).
In December Democracy Now! will broadcast from the 20th session of the Conference of the Parties to the United Nations Framework Convention on Climate Change.
Democracy Now! has been on the ground to cover every United Nations Climate Change Summit since 2009 in Copenhagen, including the 2010 Summit in Cancún, the 2011 Summit in Durban, and the 2012 Summit in Doha, as well as related meetings like the 2010 World Peoples' Summit on Climate Change in Bolivia, and the 2012 Rio+20 Earth Summit. Most recently, we were in Warsaw, Poland to cover

COP

19.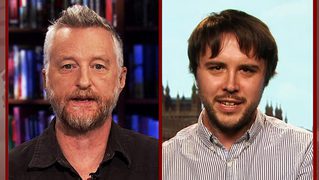 Debate: Should Scotland vote for independence? Musician Billy Bragg vs. historian Sam Wetherell