The Tale of the Princess Kaguya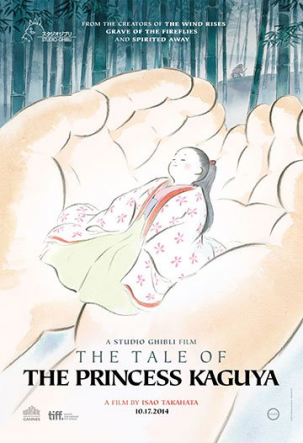 Legendary Studio Ghibli co-founder Isao Takahata (
Grave of the Fireflies, Pom Poko
) revisits Japan's most famous folktale in this gorgeous, hand-drawn masterwork, decades in the making.
Found inside a shining stalk of bamboo by an old bamboo cutter (James Caan) and his wife (Mary Steenburgen), a tiny girl grows rapidly into an exquisite young lady (Chloë Grace Moretz). The mysterious young princess enthralls all who encounter her -- but ultimately she must confront her fate, the punishment for her crime.
From the studio that brought you
Spirited Away
,
My Neighbor Totoro
, and
The Wind Rises
comes a powerful and sweeping epic that redefines the limits of animated storytelling and marks a triumphant highpoint within an extraordinary career in filmmaking for director Isao Takahata. Nov. 13th.
Review
My first encounter with the lovely 10th-century Japanese folktale The Tale of the Bamboo Cutter was in the Sesame Street special Big Bird Goes to Japan. A kind and beautiful young woman named Kaguya-hime appears out of nowhere to take the Yellow One and his canine pal Barkley on a...
More
Animated, Drama, Fantasy, 137 minutes, English. Director: Isao Takahata. Cast: Aki Asakura (Japanese version), Chloë Grace Moretz, Darren Criss, Isao Hshizume (Japanese version), James Caan, Lucy Liu, Mary Steenburgen, Takeo Chii (Japanese version), Yukiji Asaoka (Japanese version).