Prof. Ronald B. Epstein (Buddhist Text Translation Society's

Buddhism A to Z

)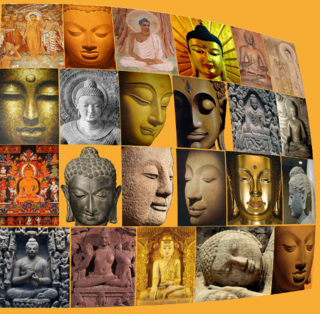 (pfpjvalley)
Prof. Ron Epstein's collection of definitions of Mahayana Buddhist terms, released in book form by B.T.T.S., are now also available free online. Send corrections, including broken links, and suggestions for improvements to Prof. Epstein.*
While many words may sound familiar, having begun the adoption process into English, they are often the subject of some misunderstanding or Judeo-Christian assumptions.
What are the Four Noble Truths, the Five Aggregates (
Skandhas
), the Six Perfections (
Paramitas
), and the Eight Winds?
Buddhism A-Z
has the answers. This volume contains full definitions of hundreds of terms, names, lists, and concepts most frequently met with in the post-Pali Canon sutras, which Mahayana says represents the original to-be-inferred teachings (as best explained by Alan Watts in
How to Understand Buddhism
).
*EDITOR'S NOTE: I have made the following unfinished work available despite some misgivings. I have done so for two main reasons. (1) I think that much of the material may be of value, particularly to students and to others who are not familiar with basic [Mahayana] Buddhist teachings, and (2) it has been many years since I have had time to work on this project, so perhaps by making it known, others can consider helping to bring it to completion....


Sanskrit diacritical marks are still missing, as are many of the Chinese characters. For the characters that are present, a Chinese Internet viewer program is needed. (Otherwise the characters appear as unintelligible symbols.)
-
Ron Epstein


A Publication of the Buddhist Text Translation Society
© Copyright 1986, revised 1992, by Ron Epstein and the Buddhist Text Translation Society
Compiler and Editor: Ron Epstein
Reviewed by: Dharma Master Heng Shun et. al.
Proofreading by: Lin Chia-hui, Rita Lu, et. al.
A NEWLY REVISED PRINT EDITION IS NOW AVAILABLE:
Ronald B. Epstein, compiler. Buddhist Text Translation Society's Buddhism A to Z.
Burlingame, CA: Buddhist Text Translation Society, 2003.