Pfc. Sandoval, Pat Macpherson, Wisdom Quarterly; Johnpg, Pacifica L.A. (KPFK.org)
The Rev. Dr. Martin Luther King, Jr. made noted that the U.S. government is "the greatest purveyor of violence in the world today" at a speech delivered in 1967 at Riverside Church, NYC, exactly one year before his assassination. It is one of his best speeches. Read it.
Dr. King marching for justice

and equality
The Student Non-Violent Coordinating Committee (SNCC, "

Snick"

), formed to give younger blacks more of a voice in the civil rights movement, became one of the movement's more radical branches. In the wake of the early sit-ins at lunch counters closed to blacks, which started in February 1960 in Greensboro, North Carolina, Ella Baker, then director of the Southern Christian Leadership Conference (SCLC), helped set up the first meeting of what became SNCC. She was concerned that SCLC, led by the Reverend Dr. Martin Luther King, Jr., was out of touch with younger blacks who wanted the movement to make faster progress. Baker encouraged those who formed SNCC to look beyond integration to broader social change and to view King's principle of nonviolence more as a political tactic than as a way of life.
UPDATE: "Selma" director on Oscars and movie
(DemocracyNow.org, Jan. 27, 2015)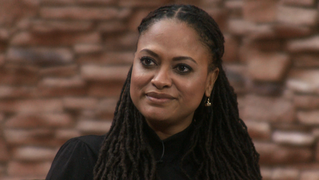 Selma Director Ava DuVernay on Hollywood's Lack of Diversity, Oscar Snub and #OscarsSoWhite Hashtag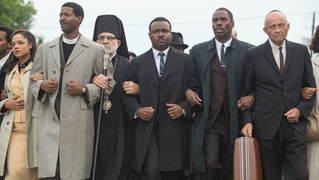 "The Power of the People": Selma Director Ava DuVernay on Fight for Civil Rights, Voting Equality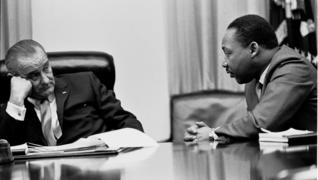 "Selma" Director Defends Film's Portrayal of

LBJ

-

MLK

Dispute on Voting Rights Legislation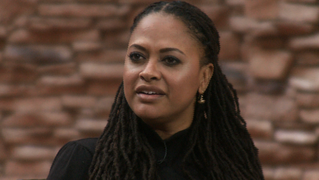 "One Person Can Make a Difference": Ava DuVernay Remembers Film Critic Roger Ebert's Early Support
KPFK (90.7 FM) Outreach Screening
Malcolm and I were peers and friends.
The KPFK Outreach Committee presents a screening of "Long Distance Revolutionary: A Journey with Mumia Abu-Jamal" (2012, 120 mins) at the
Echo Park Film Center
1200 North Alvarado St., LA, CA 90026
(North of the Sunset Blvd./Alvarado St. intersection)
Friday, Jan. 9, 2015, 6:30-10:00 pm
How many roads must a man travel? [42]
Doors open and food will be served at 6:30 pm. The screening will begin at 7:00 pm. There will be a discussion after the screening. And a small donation will be requested at the door.
Before he was falsely convicted of murdering a policeman in 1981 and sentenced to death, Mumia Abu-Jamal was a gifted journalist and brilliant writer. Now after more than 30 years in prison and despite attempts to silence him, he is not only still alive but continuing to report, educate, provoke, and inspire.
Stephen Vittoria's new feature documentary is an inspiring portrait of a man whom many consider America's most famous political prisoner -- a man whose existence tests our beliefs about freedom of expression.
I have many other speeches, like my Vietnam material.
Prison interviews, archival footage, dramatic readings, and aided by a potent chorus of voices including
Cornel West
, Alice Walker, Dick Gregory,
Angela Davis
, Amy Goodman (
DemocracyNow.org
) and others, this riveting film explores his life before, during, and after Death Row -- revealing, in the words of Angela Davis, "the most eloquent and most powerful opponent of the death penalty in the world...the 21st Century Frederick Douglass."
Unlike any other film, book, or article produced about Mumia Abu-Jamal, "Mumia: Long Distance Revolutionary" focuses on his career as a prolific author and broadcaster from Pennsylvania's Death Row. In fact, the film does not deal with Abu-Jamal's case, but rather chronicles his life and work as a journalist and revolutionary -- both pre and post incarceration. After Abu-Jamal is falsely convicted of killing Philadelphia patrolman Daniel Faulkner, the story exposes Abu-Jamal's battles with the American court system to continue his work from prison -- a battle he continues to wage.
Director and British star of "Selma"
(Black Tree TV) "Selma" is the story of a movement. It chronicles a tumultuous three-month period in 1965 when Dr. Martin Luther King, Jr. led a dangerous campaign to secure equal economic, civil, and voting rights in the face of violent state oppression.
The epic march from Selma (Alabama) to Montgomery culminated in Pres. Johnson (Tom Wilkinson) signing the Voting Rights Act of 1965, one of the most significant victories for the civil rights movement.
I think I'm the real star of the movie (Oprah).
Director Ava DuVernay's "Selma" tells the real story of how the revered leader and visionary MLK Jr. (David Oyelowo) and his brothers and sisters in the movement prompted change that forever altered American history. Director: Ava DuVernay, Cast: David Oyelowo, Tom Wilkinson, Cuba Gooding Jr., Alessandro Nivola, Giovanni Ribisi, Common, Carmen Ejogo, Lorraine Toussaint, with Tim Roth, and
billionairess Oprah Winfrey
hamming it up as "Annie Lee Cooper."
Golden Globe nominations
Best Motion Picture (drama), Best Actor (David Oyelowo), Best Director (Ava DuVernay), Best Original Song (Common & John Legend, "Glory")