Ultra-Orthodox Jew looks at Nazi swastikas at an exhibition in the Yad Vashem Holocaust Museum on eve of Israel's annual Holocaust Martyrs and Heroes Remembrance Day in Jerusalem, Israel, on May 4, 2016 (Debbie Hill/UPI.com)
You can't ask that! You can't even think that out loud, at least not in Europe where laws against free speech prevent it. Any criticism or questioning of Israel is likely to get you labeled an "anti-Semite" or pro-Palestinian, and that's a crime. Just ask the British Parliament. But this is the U.S., so let's quote active Israeli Army General Golan, who is engaged in exterminating Palestinians. On the eve he gave his honest assessment of what Israel is doing, comparing modern Israel to Nazi Germany (Jewish Amy Goodman's Democracy Now!
)
Remember "The Gatekeepers"?
Israeli PM Bibi Netanyahu, center, Pres. Reuven Rivlin, right, Chairman of the Yad Vashem Avner Shalev stand during as part of a ceremony marking annual holiday at the Yad Vashem Holocaust memorial, Jerusalem, Thursday, May 5, 2016 (pool photo by Dan Balilty/UPI.com).
"The Gatekeepers" (Hebrew שומרי הסף) is a 2012 documentary by director Dror Moreh. It tells the story of the brutal Israeli internal security service, Shin Bet, from the perspective of six of its former heads. They confess in in-depth interviews. Archival footage and computer animation help recount the role their paramilitary group has played in destroying Palestinians to create the new Israel. Nominated Best Documentary Feature at the 85th Academy Awards.
Israel strives for pity as it rules (infoisrael.net)
Today is
Holocaust Remembrance Day
, when we call to mind how a racist, fascist police state got carried away: ethnic cleansing, genocide, white supremacy, mass murder. Not only Jews, but undesirables, gypsies, gays, and intellectuals were systematically spied on, picked up by some secret police (Gestapo or
Mossad
), and disappeared.
Do similar things happen in modern Palestine as Europeans and others attempt to convert it into the "State of Israel," the official name for a non-state without a constitution and large open-air prisons? That question cannot be asked! That comparison cannot even be hinted at! It's anti-Semitic! Or so we are told, only no one told this Israeli Army General Golan.
Israeli Army general compares Israel to 1930s Germany, walks back remarks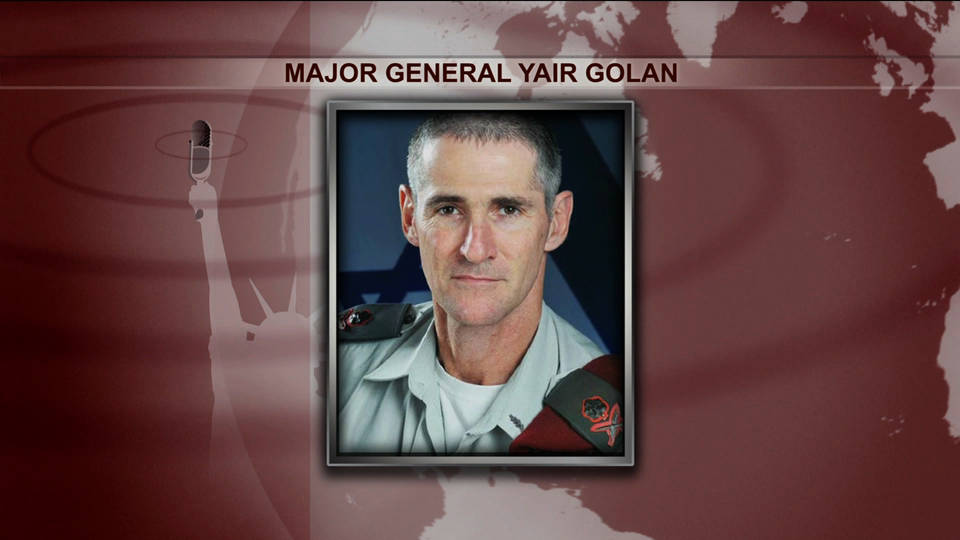 (May 5, 2016) An Israeli Army general has compared modern-day Israel to "nauseating trends" in 1930s Germany.
The Israeli military's deputy chief of staff,
Major General Yair Golan
, made the remarks Wednesday evening on Holocaust Remembrance Day, saying:
"After all, there is nothing simpler and easier than
hating the foreigner
, there is nothing easier and simpler than arousing fears and intimidating, there is nothing easier and simpler than becoming bestial, forgoing principles and becoming smug."
Following a firestorm, he was forced to walk back the comments, saying he had not "intended to compare Israel to Nazi Germany."
More
Min. 9:30: Holocaust Remembrance Day headline as general gives honest assessment